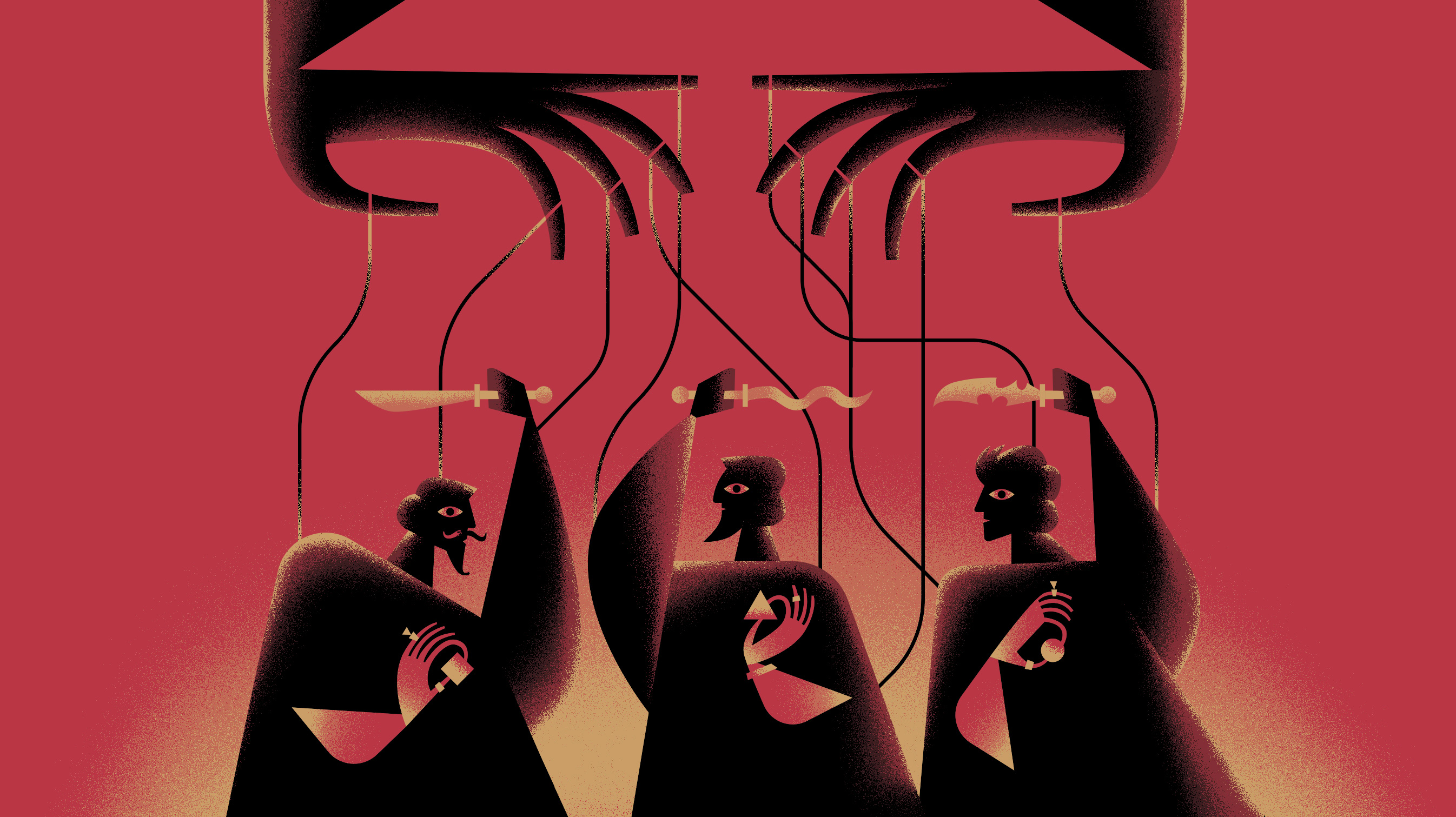 The Slow Knife

A card-based story game of wretched scoundrels and patient revenge for 2-4 players.
The Slow Knife is inspired by stories like The Count of Monte Cristo, where a simple death is too good for all those years the villains took from their victim. This isn't a John Wick-style action flick, no—this is curt whispers over fine wine, jewelled masks of jade and bone, half-buried scandals and half-heard truths, and yes - sometimes - a quiet blade in the dark.
You'll establish a promising young soul whose life is ruined by a handful of grasping scoundrels, then you'll tell the decades-long story of the victim's overdue and inevitable vengeance. You'll tell this story from the perspective of the villains, with the protagonist - The Knife - moving in the shadows or behind disguises.
You'll answer card prompts about your villain's life as you add notes and connections to a pinboard of sin and scandal.
These prompts are split into four acts to help guide your story to a satisfying conclusion. As you progress through these acts you'll also tell the story of The Knife as they rise from depraved captivity to high society and begin to enact their revenge.
By the end of the game you'll have constructed the conspiracy that destroys your wretched character as they find themselves broken and utterly ruined, face-to-face with The Knife for one last reckoning.
Then, as the sun rises on a land free of those avaricious scoundrels, you'll consider what solace - if any - The Knife might find for the rest of their days.

The Slow Knife is a roleplaying game - in that you're playing the role of one of the villains - but it doesn't demand much from you in terms of improvised oration or dramatic narration. Even if you've never played an RPG before, this game is designed to make your first experience with the hobby a great (and comfortable) one. All you need is a love of good stories and a willingness to ask curious questions. If you're a seasoned RPG player, maybe with a long-running D&D campaign, this would be a great game to play if someone can't turn up one week or you're looking for a break between campaigns—simple, self-contained and zero prep. And of course if you're already on board with playing a bunch of unique, often-strange story games, well then you know what's good already!
At the core of the game is a 52-card deck of prompts that asks probing, establishing questions about your villainous characters and their dishonourable lives. You'll take turns answering from this deck, building out the story of your character as you pass through the years. After resolving each card, you'll consider the board in front of you and add cards and connections to reflect what you've added to the story.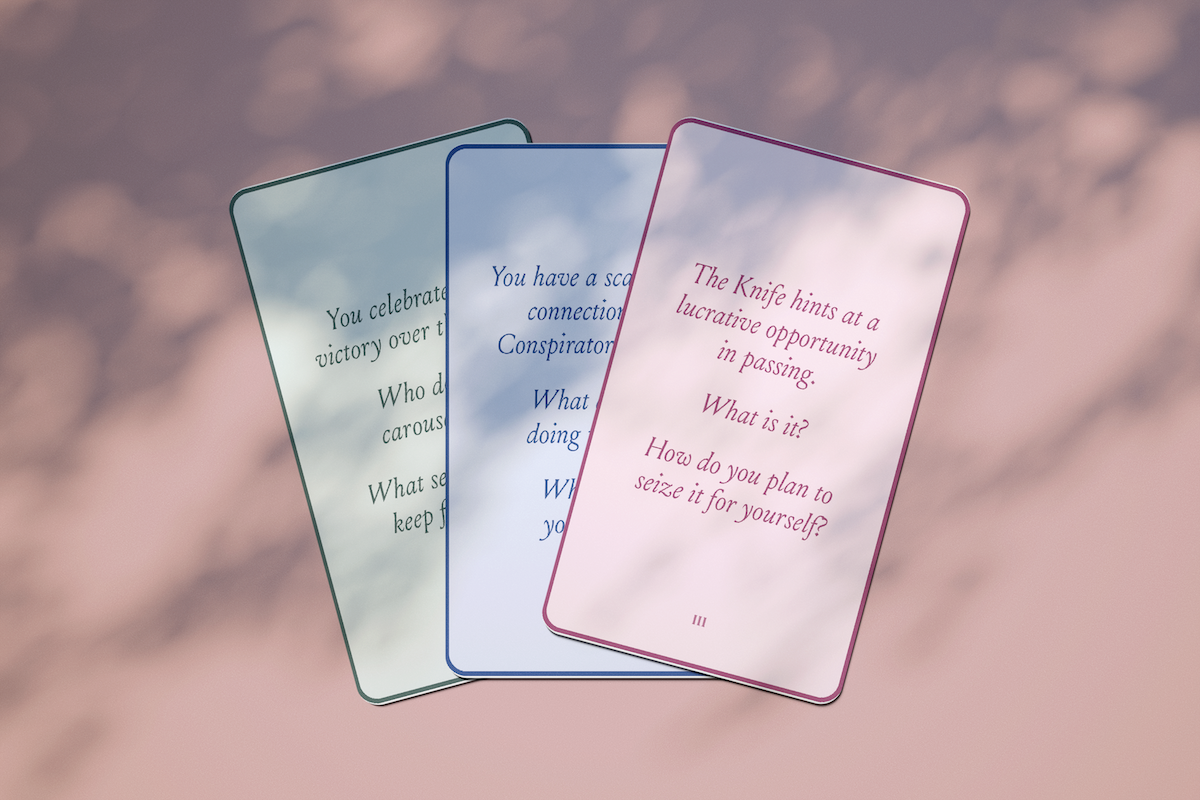 The board is the other major component of the game. As you progress through the game your host of characters and events will swell—the board is how you record that information so you can maintain and complete story beats. It's also a really fun artefact of play, something you can imagine hanging on the wall of your single-minded protagonist.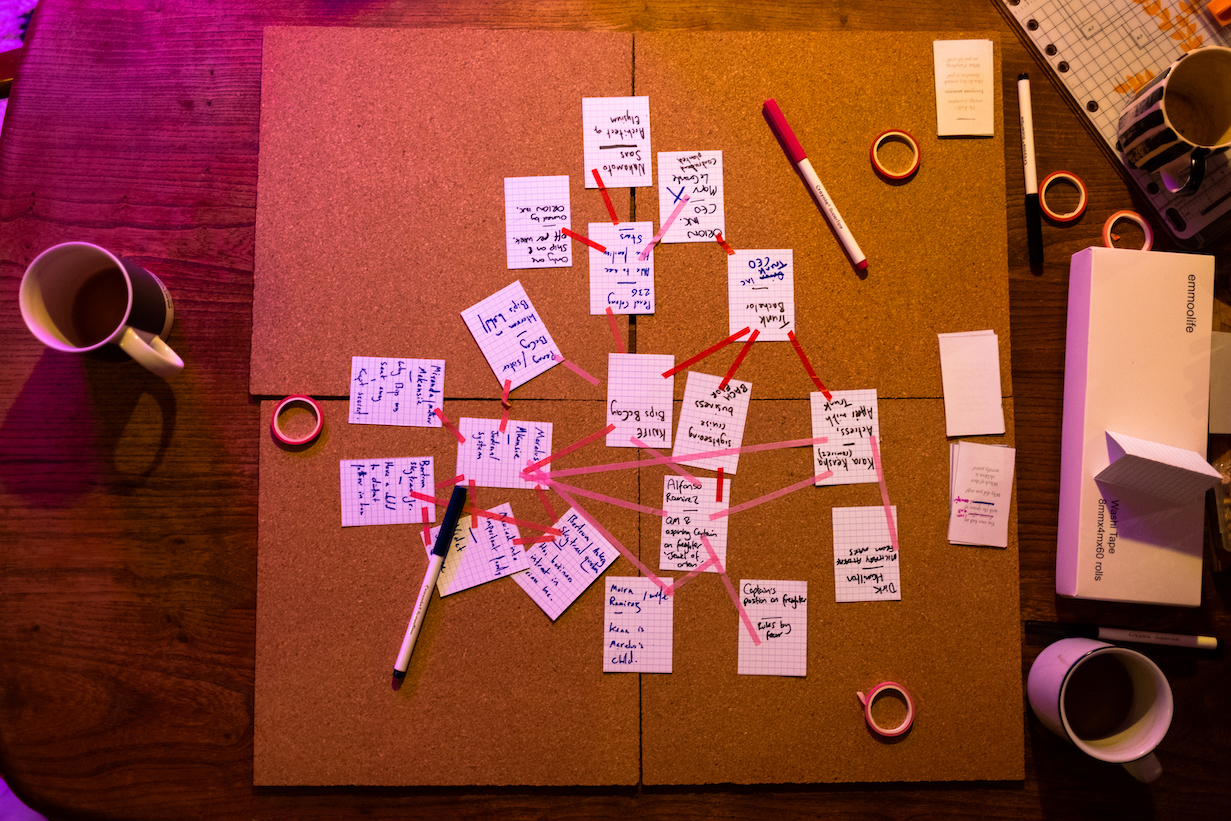 By the time you reach the fourth and final act, you'll have a knotty web of cheap lies, bad blood and dirty money that The Knife can twist and expose to exact their revenge.
When your story is complete, you could even use the rich world you've built as a setting for a story in another game, taking place as the dust settles from your explosive finale.
The Slow Knife is inspired by games like For the Queen that are rules-lite enough to start playing immediately. Since you always proceed through setup in the same order, I'm providing a simple booklet to teach you the game step-by-step as you play. This, along with a guided setup process that takes you through the creation of your world and characters, means that you don't have to do any kind of prep going into a game—just open the box and get going.
Here's what you get:
52 act cards, split into 4 sets.
4 act opening cards, to set up and explain the 4 acts.
4 conspirator cards, that you'll use to end the game.
32-page rules booklet to teach you the rules & set up your game.
28-page prelude booklet to set up your story and create characters.

So, the box has everything you need to play a game of The Slow Knife.
But sometimes you don't want to spend an hour of your evening (or more, if your group is anything like mine!) building a world & characters from scratch. So, I've also written three playsets that will provide an original, pre-written setting and define all the major characters of your story—the Knife, your villains and the setting itself. These playsets are designed to be a quicker experience than the 'from scratch' approach in the box, and they will fill your story with beats and possibilities that make starting play effortless.
You'll get:
The Count of Saint-Lazare, set in Revolutionary France & inspired by the work of Alexandre Dumas & Victor Hugo.
Arcadia Prime, a sci-fi playset that takes place on a wealthy space station above a dying Earth.
The Lament of Broken Glass, which blends Tolkien's elves with the Carnival of Venice to produce a stylish story of crowns and conspiracy.
I hope you enjoy the game!
Thanks so much to all of the playtesters that helped make this the best possible version of The Slow Knife imaginable, especially the Discord crew and my ever-patient friends.
Purchase
In order to download this game you must purchase it at or above the minimum price of $12 USD. You will get access to the following files:
00 - Introduction.txt
616 bytes
01 - The Slow Knife.zip
25 MB
03 - Playing Online.txt
2 kB
Comments
Log in with itch.io to leave a comment.
This looks so incredibly cool. And WOW, that header art is absolutely killer.