The Artefact (🔛 Kickstarter!)
Note: The Artefact is coming to Kickstarter on the 2nd February! Please sign up to be notified when it launches and back it next week. Sales through itch.io won't help me towards my goal so I've made the price RIDICULOUS until after the campaign :) Plus, it'll be cheaper to get the game through Kickstarter while the campaign is running.
WHAT IS THIS?
The Artefact is a story game for one player, designed for contemplative solo play.

In the classic dungeon crawl, you follow the lives of adventurers as they overcome challenges to gain prestige and, most importantly, magical treasures. But what were those treasures doing before the adventurers came along? How many aeons have passed, in silent darkness, since they were last used?
The Artefact shifts the focus to the perspective of a single magical item, and its history as it passes through the hands of many different keepers. You'll feel the weight of time as the item is lost or abandoned again and again, the dust & decay piling around it until it's found again by someone new.
It's a great way to spend an hour; sketching, world-building and storytelling in your own company. It's also a fantastic way to generate really unique items for tabletop games like D&D, with detailed histories far more vivid than any you'd typically find in a compendium.
OKAY, TELL ME MORE
Okay, here goes.
THE ARTEFACT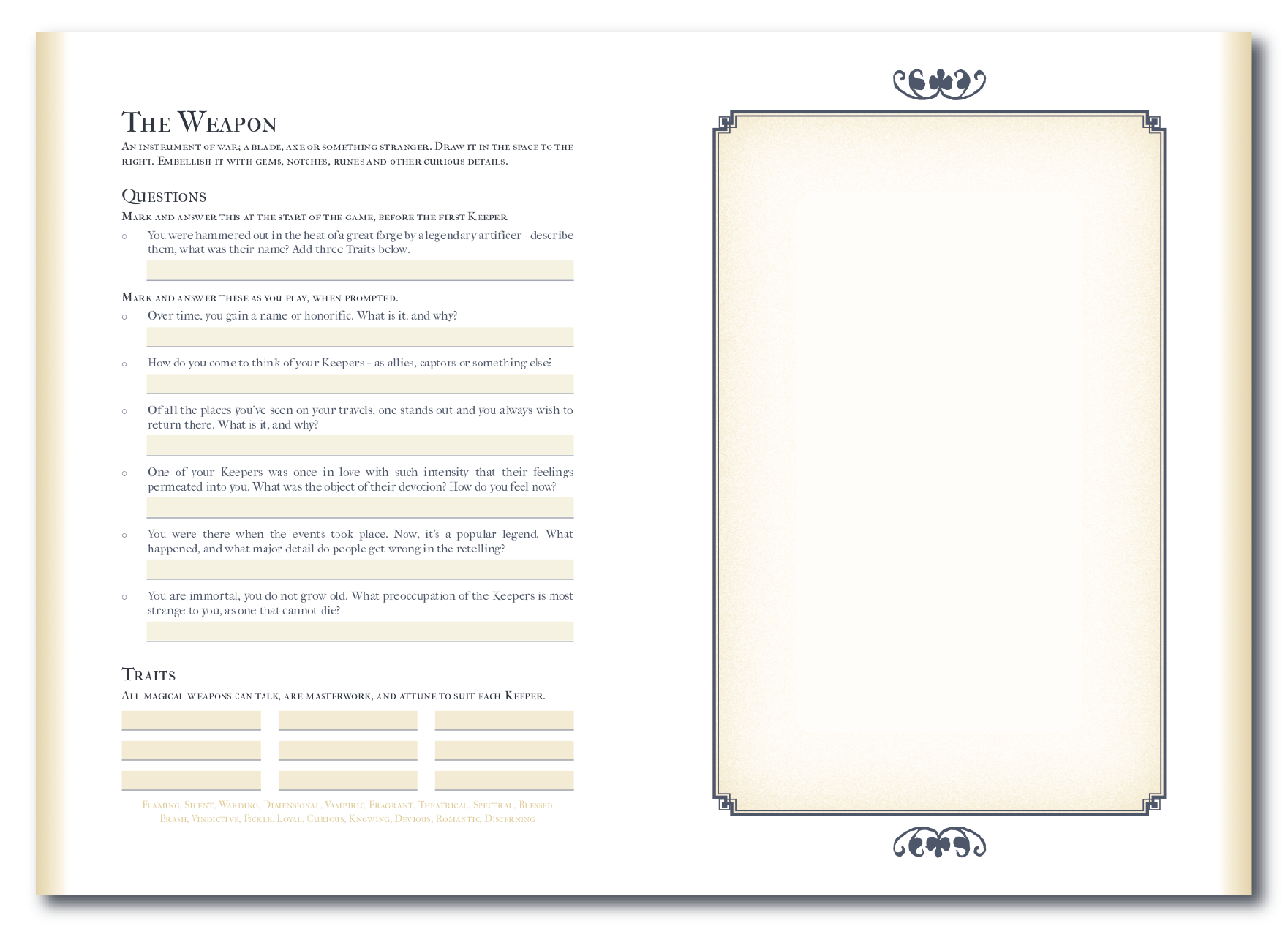 The Weapon, one of the playbooks in the game
First, you choose your Artefact from three different archetypes. Give it life by sketching it and naming its properties. Who was its maker? What were they like?
KEEPERS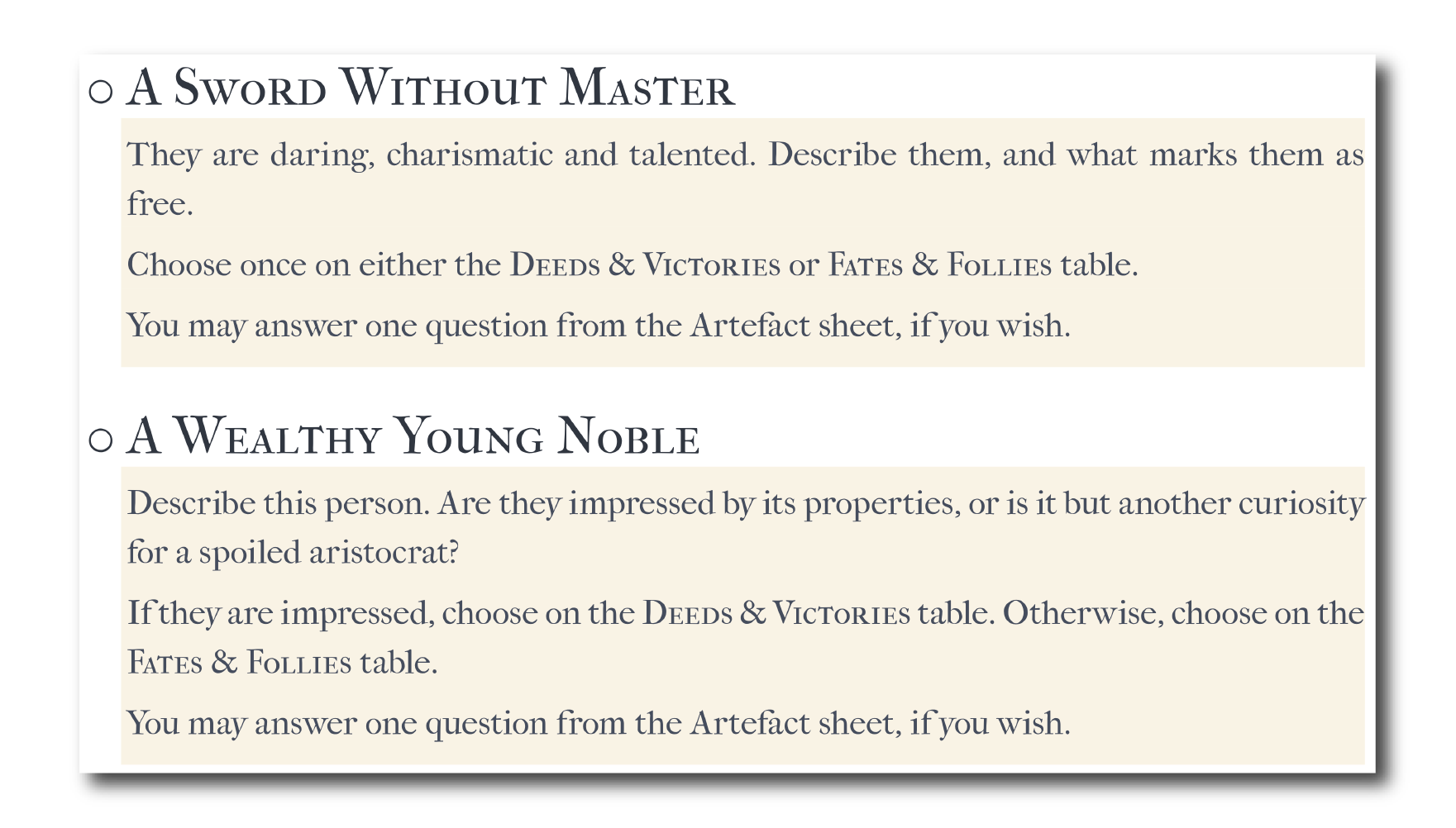 The Artefact cannot act alone - a Keeper must arrive to seize them. Only then can it travel around, seeing wondrous places and having grand adventures. While in the possession of a Keeper, the Artefact may learn truths about itself through experience and use. Or, it could spend a few decades holding a cart together.
Its agency is limited, shackled as it is to its Keeper, but it can begin to influence its situation through magics and sheer force of will.
TIME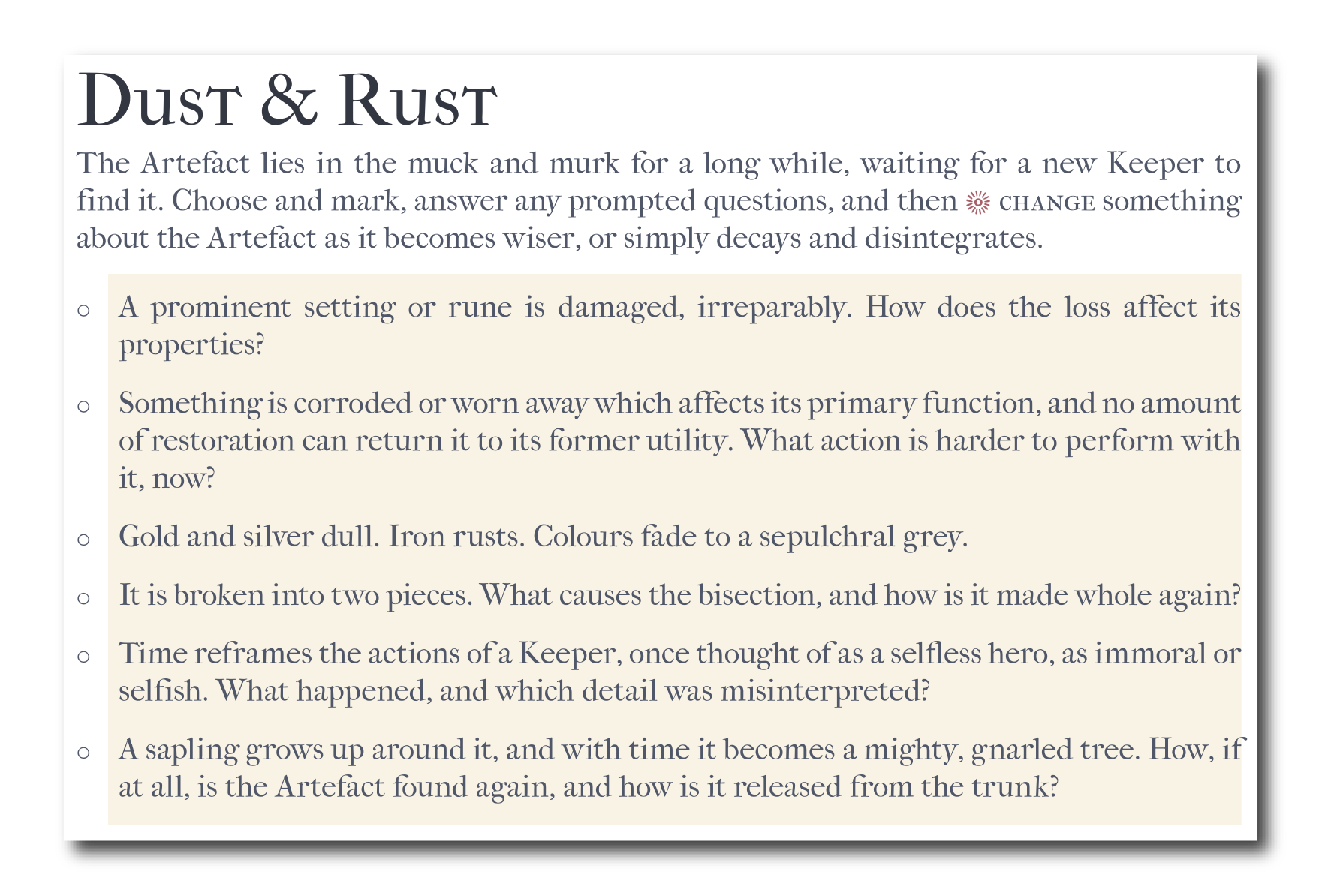 Artefacts outlive Keepers, however. Through death, bestowal or carelessness, a Keeper will inevitably lose the Artefact. The sun turns, seasons pass and flesh & blood return to the earth. Eventually, another Keeper will arrive.
Or will they? What will the story of your Artefact be, as it decays and disintegrates over the passing years? Will it shine in one final moment of glory, or simply be discarded as a spent tool?
Play to find out.

If the price of this game is a hardship to you, please DM me on Twitter @mouseholepress and I'll get you a download key, no questions asked.

Purchase
In order to download this game you must purchase it at or above the minimum price of $100 USD. You will get access to the following files:
The Artefact - Singles.pdf
3 MB
The Artefact - Spreads.pdf
3 MB
The Artefact OST.zip
25 MB
Download demo